These Are the 15 Most Popular Swimsuit Trends of 2019
Summer is coming. Warmer days are coming, so it's the right time to look through your wardrobe. You have no idea what swimwear will be fashionable this year? Do not worry, we've chosen the trending styles and designs of swimsuits especially for you.
1. ZAFUL Cutout Knot Tropical Leaf Swimsuit
Do you like to get attention? You have this guaranteed in this one-piece swimsuit. A very fashionable pattern of tropical leaves makes that people won't take their  eyes off of you. In the upper part there is binding, which supports the breasts. Adjustable straps and removable inserts cups, make the tropical leaf swimsuit perfectly adheres to the body.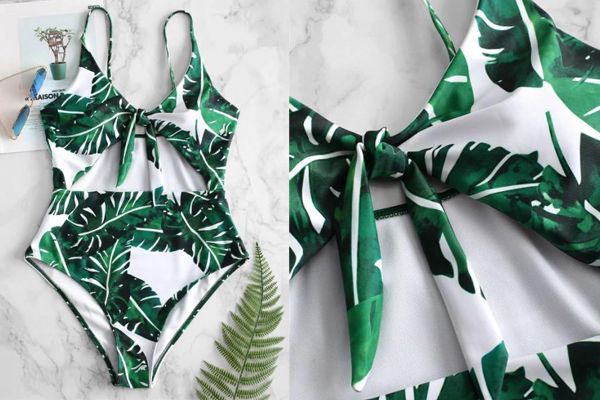 2. Halter Knot Tie Side Bikini
This outfit has been created for girls who want to show their charm and grace. It's extremely delicate and feminine swimwear. Tied bra and panties on both sides make Halter Knot Tie Side Bikini so goudy.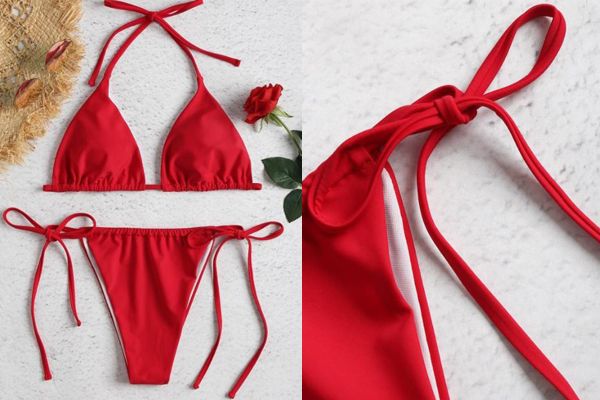 3. Bandeau Top And Floral High Waisted Swim Bottoms
This two-piece swimsuit consists of a top without cups and straps and comfortable panties. A perfect outfit for girls with smaller breasts. A soft and well-cut material will ensure good fun on the beach. This Floral High Waisted Swim Bottoms is an extremely charming swimsuit.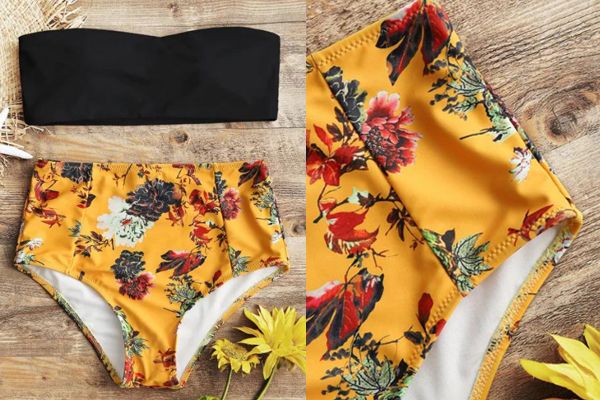 4. ZAFUL Striped Tank Bikini Set
Do you like to splash freely in the water over the ocean or a pool? In this two-piece Bikini Set you will feel very comfortable. Highly cut panties will make your legs look longer and slimmer.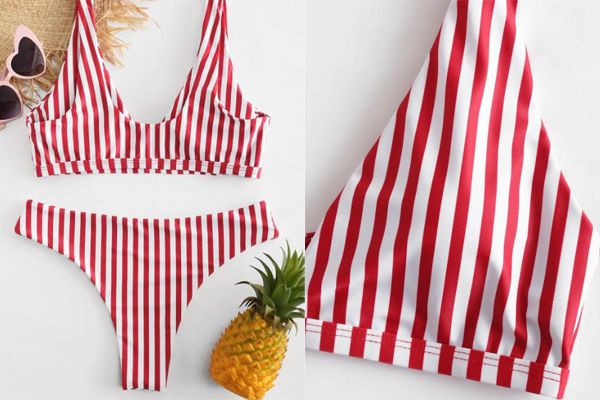 5. ZAFUL Two Tone Belt Bandeau Swimsuit
Built-up one-piece swimwear will hide 'this and that'. The decorative strap gives it a charm and also allows you to adjust the outfit to the body. Swimsuit is made of a soft and pleasant material that will be perfect for a beach or a backyard pool.
6. Cherry High Waisted Tied Bikini
Charming red cherries refer to the style of the 50s, when pin-up girls were popular. This pattern makes the High Waisted swimsuit look very feminine. The deep collar ensures good holding of the bust. The high cut of the panty ensures a slim leg appearance.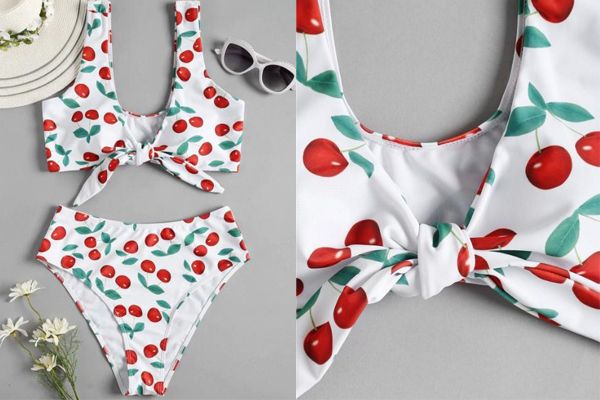 7. ZAFUL Flower Ruffle High Waisted Tankini Set
This two-piece swimsuit is a great choice for people who do not want to show too much on the beach. Ruffles give the blouse a bit of charm and also allow you to modify your figure. High-waisted panties allow you to hide a larger tummy. This Ruffle High Waisted Tankini Set will make you play well and stress free.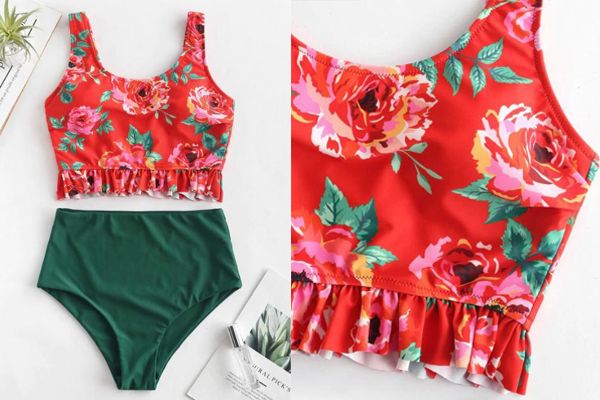 8. ZAFUL Floral Plunging Lace Up Swimsuit
Show yourself on the beach in a one-piece floral bathing suit. The delicate pattern of flowers makes it very feminine. Wrinkle on the stomach allows you to hide the tummy, and the binding at the back of the outfit will catch the eyes of people sunbathing on the beach.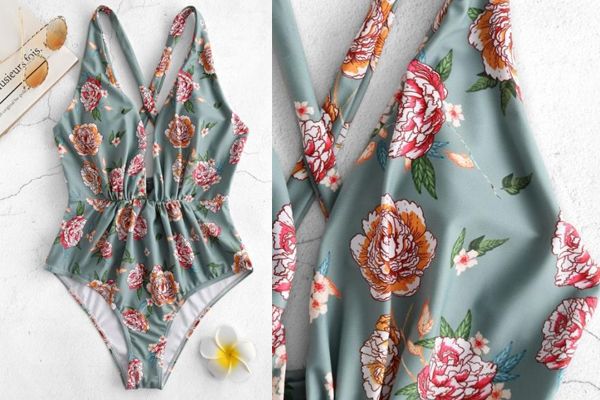 9. Button Up Drop Shoulder Cover Up
Most people love to spend the whole day at the beach. Sunburn is a consequence of staying in the sun for too long. How to protect against them? Of course, the use of creams, as well as a breathable Cover up that will reduce skin contact with the sun. Light and airy blouse will also be useful on a windy day.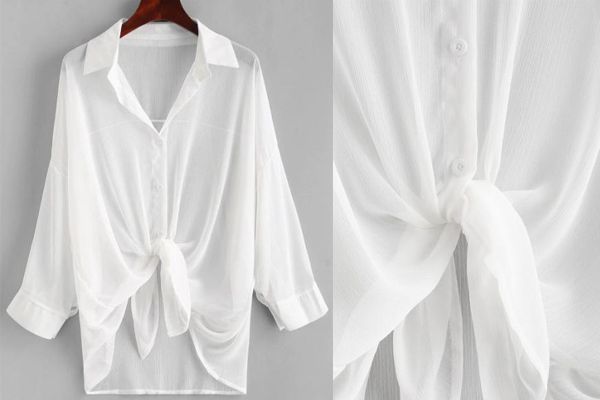 10. ZAFUL Ruffle Tie Front Bikini Set
A very delicate and airy bikini set for women. The ruffle on the straps and the sides of the panty gives them lightness and femininity. Tying the bra at the front makes it easier to put on and adjust the costume to the body.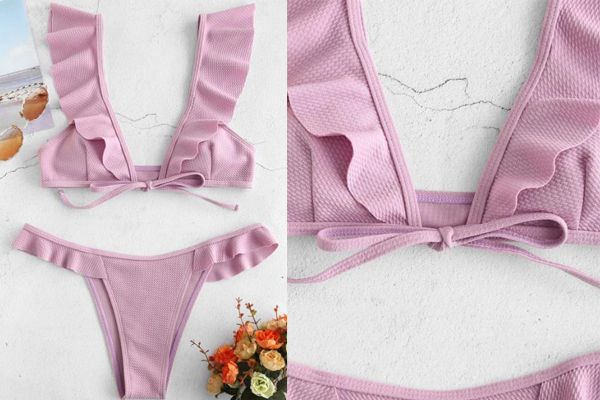 11. ZAFUL Floral Lace Up Moulded Blouson Tankini Set
The two-piece Tankini set will find many lovers of swimming in the ocean. The reinforced bra holds the bust well and emphasizes its shape. Built-up panties will cover the round tushie and give you freedom of movement. The combination of colors, blue and orange, makes the Tankini Set look very cute and delicate.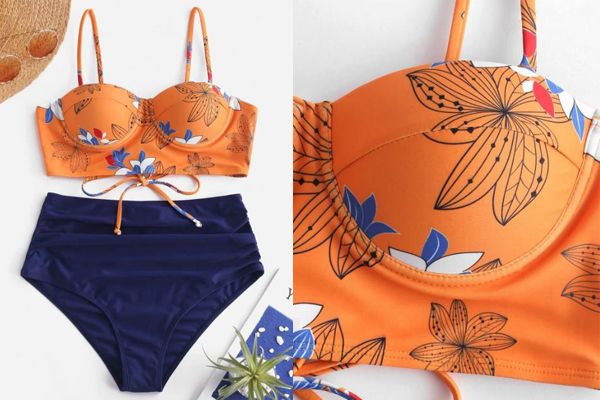 12. Fringed Tie Crochet Camisole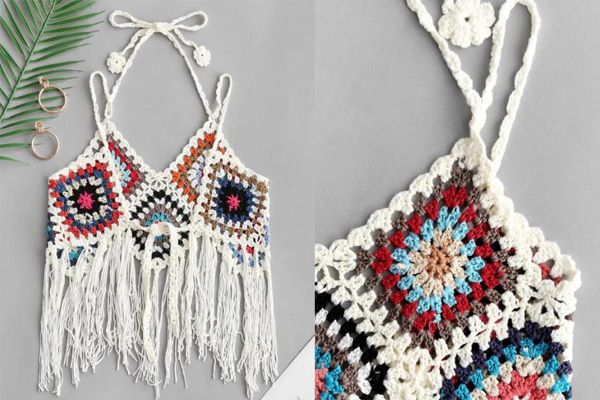 13. ZAFUL Knot Bandeau Polka Dot Bikini Set
Do you like setting trends? Get attention? This charming dotted dress can give you these impressions. Delicate white dots on the blue material make this polka dot swimsuit very feminine. You can attach the straps to the bra to make sure that bra will not fall down.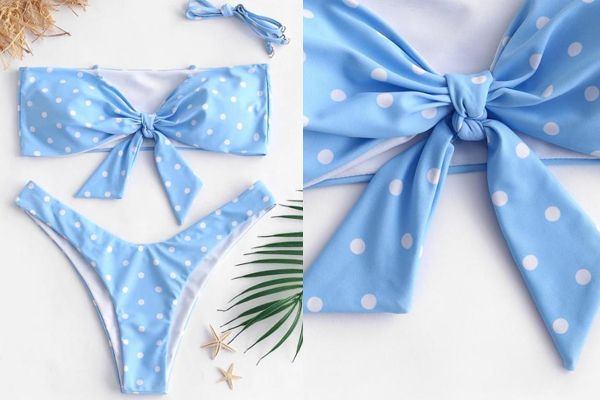 14. ZAFUL Frilled Colorful Striped Smocked Bikini Set
Do you like freedom and running on the beach? This colorful bikni set must be in your closet. High and comfortable panties do not restrict movement and make your legs look smudgy. Bra with wrinkled and elastic material adheres well to the body. You will be sure that no unpleasant situation will surprise you.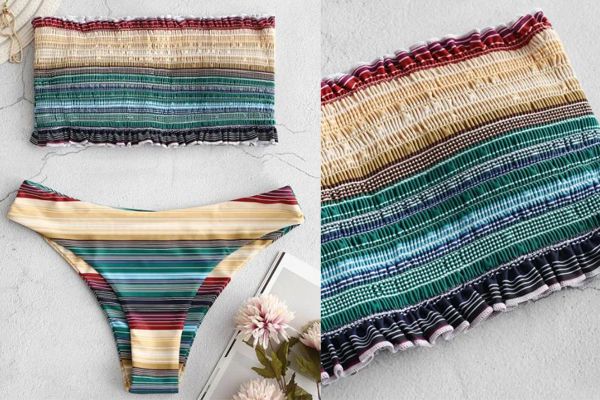 15. Dotted One Shoulder Bikini Set
Do you want to stand out from the crowd of sunbathers? In this asymmetrical bathing suit, it certainly will. Comfortable and well-tailored one shoulder swimsuit allows you to freely splash in the water throughout the day.